Agriculture and Resource Management -
Small Fruits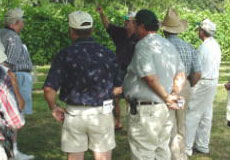 Dr. Gary Pavlis providing information to participants during the RCRE Legislative Tour.
Small fruits issues are addressed by conducting research and outreach programs for commercial grape and blueberry growers. Examples of outreach efforts include:
Homeowners growing blueberries, grapes, and brambles are also supported by outreach efforts.
Special Projects

Vineyards
New vineyards have been established throughout New Jersey. Dr. Pavlis has imported grape varieties from Italy and is currently cooperating with a nursery to propagate plants in an effort to make them available to vineyard owners.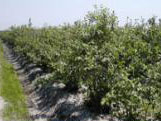 Blueberries
Dr. Pavlis has changed the methodology of fertilizing commercial blueberries. His research has changed the timing of application, computerized fertilizer recommendations and introduced fertilizing through trickle systems (fertigation) to blueberry growers. The result has been higher yields, better fruit quality and healthier plants.

Blueberry Integrated Pest Management
Cultivated blueberry production in New Jersey ranks second in the nation behind Michigan.  Atlantic county is the center of production with almost 80% of the total crop produced here.  Growers in our county have always been progressive and tend to adapt to practices which often result in better efficiency. More Information...
Frequently Requested Information

Blueberry Bulletin
A weekly newsletter for commercial blueberry growers containing cultural, disease and marketing information. CLICK HERE.
Small Fruits: Commercial
Small Fruits: Gardening and Landscaping
Vegetables
NOTE: Other commercial and homeowner small fruit related fact sheets and bulletins are available through RCRE publications or by contacting our office at 609-625-0056.
Other Resources
Diagnosing Small Fruit Plant Problems
This web site allows the home gardener as well as the commercial producer to diagnose a problem, i.e. nutritional, insect or disease. Click on berry diagnostic tool.

For the Grape/Wine Enthusiast
A link to the web site of the American Wine Society, a non-profit national organization supplying information on grape growing and wine making.
Gary Pavlis, Ph.D.
Associate Professor, Rutgers University
Agricultural Agent, Rutgers Cooperative Research and Extension
pavlis@njaes.rutgers.edu