Lawn & Garden - Soil Testing
Soil testing kits may be purchased from our office. The purchase price of a soil testing kit includes the cost of the standard fertility test.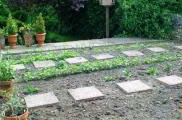 Each kit includes:
an information sheet
a questionnaire
a mailing bag or envelope.
The information sheet provided with the soil testing kit describes proper sampling procedure. For further information, refer to Rutgers Cooperative Extension publication Soil Testing for Home Lawns and Gardens.

The cost of a standard soil test is $20.00. Other test options are available.