The Atlantic County Master Gardeners are trained volunteers who assist Rutgers Cooperative Extension in delivering horticulture programs and information to the general public.
Master Gardeners receive in-depth training in horticulture from Rutgers University faculty and professional staff. There is a fee to cover material and program costs. As part of the training, Master Gardeners are required to volunteer a certain number of hours, on the Help-Line and working in their community in programs sponsored by Rutgers Cooperative Extension. Successful graduates of the training become Certified Master Gardeners after they have completed the initial volunteer requirement.
What Kinds of Things Do Master Gardeners Do?
How To Become An Atlantic County Master Gardener
Ask the Master Gardener a Question
---
What Kinds of Things Do Master Gardeners Do?
Master Gardeners work as volunteers in a variety of areas, including:
Help-Line
The Atlantic County Master Gardeners are available from 9 am to 3PM Tuesday through Thursday to answer your homeowner calls. Should you have questions regarding your lawn, pests, trees, flowers, fruit or vegetable gardening the volunteers are here to assist you.  The Master Gardeners can be reached at 609-625-0056. 
 You can also ask questions using our on-line by CLICKING HERE.
Group Presentations
Have a group of 10 individuals or more that are looking for a speaker on a home gardening topic? 
The Rutgers Master Gardener Program in Atlantic County have included a list below of topics that Master Gardeners are available to present to your group.  If one of the topics fits your needs please fill out the Speaker Request Form and submit it to our office.  There is no fee for this program.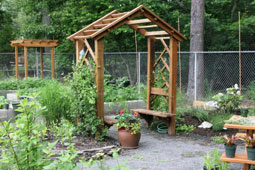 Demo Gardens
We have big plans for our demonstration garden this year.  It will include perennial as well as annual vegetables.  In our six raised beds we will be growing herbs, asparagus, summer squash, strawberries, onions, and of course tomatoes, lettuce, peppers, swiss chard, broccoli and carrots.  The trellis will sprout peas in the spring, winter squash in the summer, and hopefully some cucumbers on the side.
The Master Gardeners are planning the shrub and perennial flower beds as we speak.  Once the plant list is compiled it will be available for educational purposes.  There will several container gardens strategically placed around the beds to help fill in between flower blooms.  The plans for the compost area are in the works and should be up and running by spring.
How To Become An Atlantic County Master Gardener
Classes begin in February and will be held on Tuesdays and some Thursdays from 9AM – 12:30PM for approximately 20 weeks. Click here to print the application.
Below is a sample of a typical Master Gardening Course:
Class
Indoor Plants
Soil Classification
Plant Propagation & Insect Management
Water Quality
Small Farm & Garden
Turfgrass – Maintenance & Pest Management
Pesticide Safety
Plant Disease
Native Plants
Tree Pest Management
Pruning
Pest Management for the Home Gardener
Landscape Design
Insects- Small Farm & Garden
Small Farm & Garden Vegetables I
Small Farm & Garden Vegetables II
Floriculture & Nursery I
Floriculture & Nursery II
Small Farm & Garden Fruits I
Small Farm & Garden Fruits II
Resources
Rutgers New Jersey Agricultural Experiment Station (NJAES) Resources
Gardening and Landscaping Publications

Lawn and Garden Frequently Asked Questions

Rutgers NJAES Home, Lawn and Garden
Programs
Rutgers Master Gardener Program
Home Gardening
Lawn Care
Other Lawn and Garden Resources

Commercial and Homeowner Soil Testing
CLICK HERE to earn more about soil testing at Rutgers Cooperative Extension.
If Plants Could Talk Television Series
This PBS television show features gardening tips from local university experts, successful farmers, master gardeners, and many other plant experts. Visit the web site...
Other lawn and garden related fact sheets and bulletins are available through RCE publications or by contacting our office at 609-625-0056.